Save Time and Money with ACH Payment Solutions
What is ACH Processing?
Automated Clearing House (ACH) processing, along with Remote Deposit Capture (RDC), makes getting paid more efficient and eliminates the delay of processing paper checks. ACH is a computerized network for electronic funds transfers using the bank's routing and account numbers for account identification. Settling funds in batches, ACH is especially useful when setting up recurring monthly bill payments for repeated and continued goods and services including mortgage or rent, insurance, and subscription payments. RDC allows merchants to convert paper payment methods into electronic transfers. Together, both methods benefit consumers and merchants.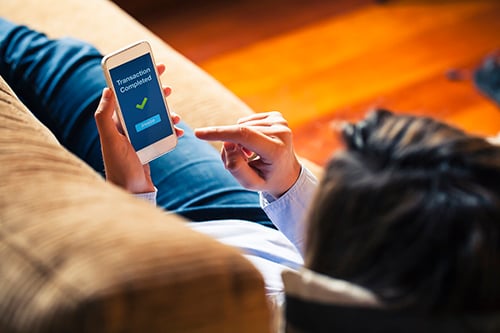 Product Benefits
Provide Peace of Mind and Convenience for Your Customers

Today, paper checks are outdated and subject to loss or fraudulent activity. ACH direct payments provide accuracy and security where paper methods fail. With ACH, sensitive banking information such as routing and accounting numbers pass through fewer hands during direct transfers and ensure a higher level of safety. You can also set up automatic recurring payments, and never miss another due date.

Reduce Hassle, Expense, and Delay with ACH Payments

ACH is more efficient than waiting for a paper check or money order to arrive and be deposited. Transactions with ACH are often settled and accepted before paper methods, and can be cleared in as few as one to three days. Get paid faster and with less processing fees, as ACH fees are generally lower than those of credit and debit processing.
Product Features
Accept ACH Payments Through a Single Platform

With a single platform, you can process and support ACH transactions, credit and debit card payments, and RDC (Check 21) with ease. Hosted and supported by iCheckGateway.com, using this service releases you of the extra burden of using your internal tech staff to build it from scratch. It's fully supported for seamless integrations and ready to go.

Enjoy a Higher Level of Information Security

Our solution uses the highest Industry Standard SSL encrypted communication and Multi-Stage User Credential Authentication Verification tools. iCheckGateway.com will also let you accept ACH transactions according to security best practices. Bottom line: keep your sensitive information safeguarded without any worries.

More Secure Ways to Pay

From an eCommerce website, customer relationship management (CRM) software, or inventory application, you can accept ACH payments the way that best suits you. The iCheckGateway.com team can build a custom solution for accepting ACH payments, specifically tailored to your business's needs with a Hosted Payment Portal. Our ACH payment processing solution operates through our secure and supported gateway for any industry, including online retailers, universities, communication companies, charitable organizations, and more.

Detailed Reporting Features

Our solution brings a higher level of detail to the table, giving you fast and detailed return information, and visibility on notifications of change. This detailed data reporting makes it easy to facilitate quick reporting and exceptional handling.